All dogs are awesome. However, when it comes to choosing a pup to bring home, there are several factors to take into consideration. Whether you're simply learning about dogs, or trying to find your ideal canine companion, here are a few things to keep in mind about the fluffiest dog breeds.
Important Considerations
It's important to understand the benefits and drawbacks of having fluffy dogs before you bring a pup into your home. Here's what you want to keep in mind:
Soft and fun to play with
Super adorable and fun to pet
Prepare to dedicate extra time to clean after a furry dog
Big fluffy dog breeds require more grooming, and you should also consider any allergies that you or a family member may experience.
Before You Commit
Bringing even the sweetest, fluffiest dog into your household is a big responsibility. You should be ready to take care of your new pet and to get to know their individual personality. While certain breeds are known for various personality traits, there are no guarantees that your dog will exhibit these specific traits.
There are many amazing and fluffy dog breeds. For the purposes of this list, we are going to focus on medium and large dogs specifically. While we want to include all doggies, this specific list is going to be limited towards mid-size and larger breeds that weigh at least 50 lbs. as adults.
Before we dive in, keep in mind that there are many wonderful and lovable large fluffy dog breeds and that this is not a complete list- we definitely missed some!
Great Pyrenees
This breed is known for being intelligent, patient, and docile. Great Pyrenees are also known to be large and fluffy. These large dogs can weigh up to 100 lbs. but are known to be calm and gentle.
The Great Pyrenees are named for their point of origin in the Pyrenees mountains. Their warm, fluffy coat is designed to keep them warm during cold winters, but also happen to make them extremely huggable.
Chow Chow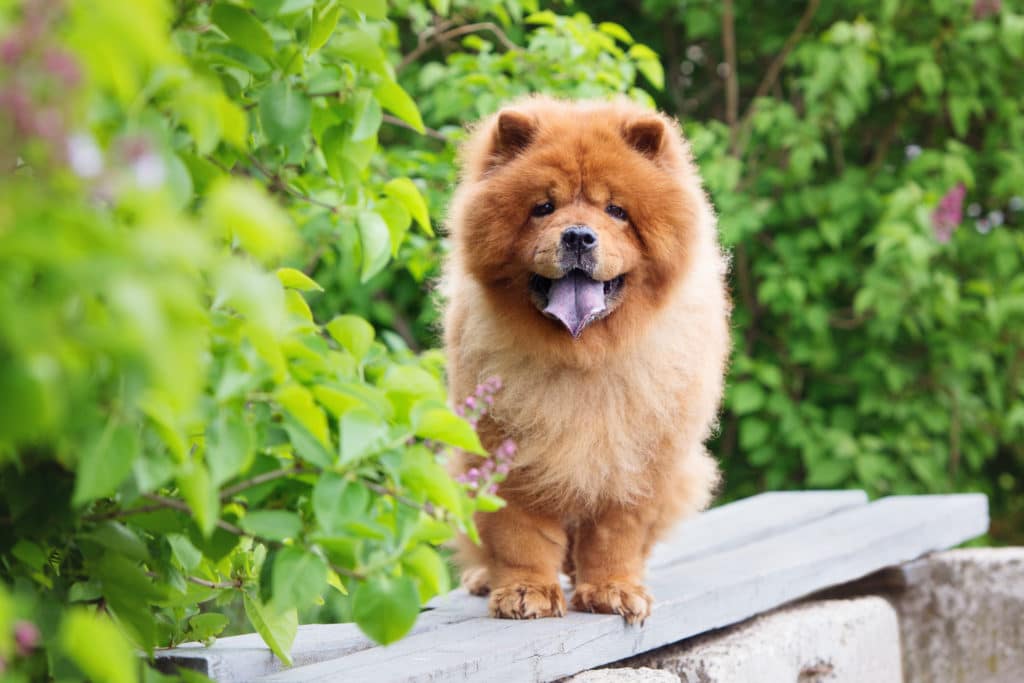 Originating from China, this breed is known to be independent and proud, but also playful. Chow Chows have been bred in China for centuries and have served as hunters, herders, and even guards. Despite their dignified appearance, Chow Chows are also very soft and fluffy- you just have to put in the effort into getting to know them.
Golden Retriever
Affectionate and smart, Golden Retrievers have gained popularity for their golden, fluffy coat. These large dogs are extremely popular choices in the U.S. and are definitely known to be huge lap dogs.
Bernese Mountain Dog
Charming, powerful, and calm, Bernese Mountain Dogs are giant, fluffy love bugs. Like many mountain dogs, the Bernese has a thick fluffy coat for warmth. While not all big dogs love cuddles, these guys are known for their tolerance of hugs and children alike.
Alaskan Malamute
Hyper, playful, and energetic, the Alaskan Malamute is known as an extremely loyal breed. Originating in the wilderness of Alaska, the Malamute is known to be playful. While the Malamutes are known to be fluffy, you'll have to catch them long enough for hugs.
Newfoundland
Loyal, patient, and good-natured Newfoundland dogs are known for their massive size. These dogs can weigh over 150 lbs in some cases and are essentially fluffy mini-ponies.
Despite their size, this breed is known to be very calm and docile. Their docile nature makes Newfoundland dogs great large apartment dogs and excellent nanny dogs
Samoyed
This big fluffy white dog breed is known for being adaptable and affectionate. They are great playmates. Samoyeds are extremely cute- and they know it! And, because they are lovable and incredibly fluffy, they are great to hug. They're basically fluffy clouds with a long curly tail. While these big fluffy dogs are known to be a calm breed, they can be extremely mischievous.
Bouvier de Flanders
Loyal, strong-willed, and incredibly brave, Bouvier de Flanders is originally from France. These fluffy dogs are known for their soft, curly hair, and incredible valor. Bouviers are great guard dogs and expert cuddlers.
Eurasier
Weighing between 40 and 70 pounds fully grown, Eurasiers are large fluff balls with a bark. While known to be confident, Eurasiers are also gentle and social dogs, which makes them great friends. While lovable and family-oriented, Eurasiers are also aloof with strangers, which makes them great guard dogs.
Tibetan Mastiff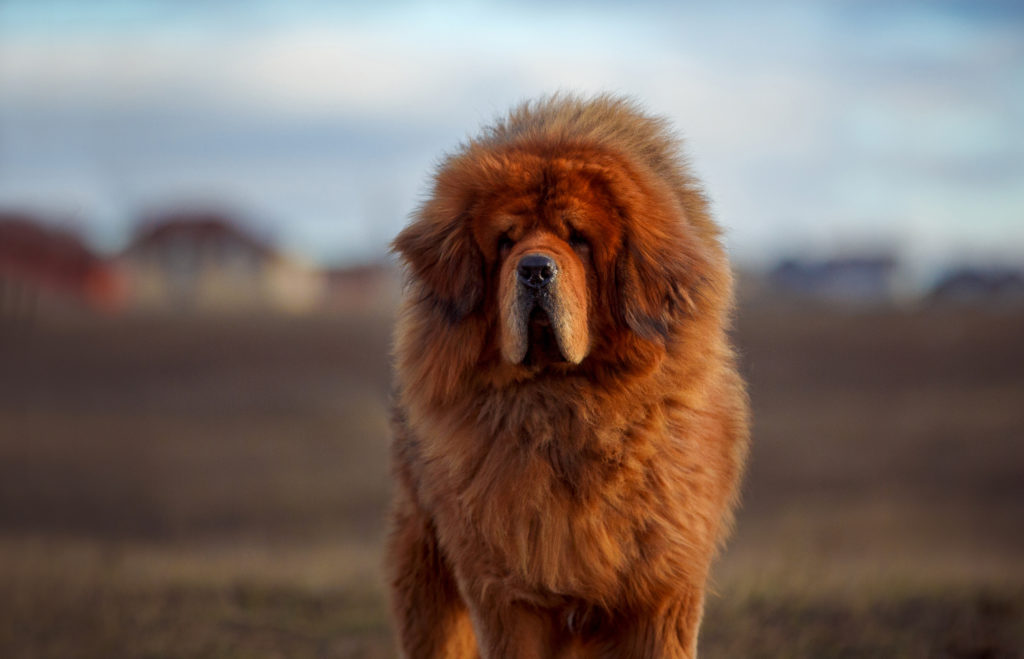 Known for their courage and confidence, the Tibetan Mastiff can be an intimidating dog. This breed has a unique, lion-like mane, which gives them a shape that is a combination of sleek and fluffy.
While known for being expensive, Tibetan Mastiffs are big breed dogs that can grow to be over 150 lbs.  However, they are still sweet and lovable pets. If you're planning on buying a Tibetan Mastiff specifically, keep in mind that this breed tends to be reserved in nature and is even a bit shy, so be prepared to build trust with your new pet slowly.
Rough Collie
There are two types of Collies. The Rough Collie is distinguished by its long hair, which makes it fluffier, while the Smooth Collie has shorter hair and tends to be sleeker. The Collie is a majestic, elegant breed, popularized by Lassie's character, a loyal, dependable dog. Rough Collies are definitely cuddly and can make great companion dogs.
Leonberger
This massive German breed can grow up to weigh nearly 200 lbs. This giant fluffy dog breed is also known for its calm and friendly demeanor- they're basically giant teddy bears with a double coat of fluff.
One important thing to keep in mind about these fluffy dogs is that they shed frequently during certain seasons, which means that you may feel as furry as your Leonberger after cuddles.
Old English Sheepdog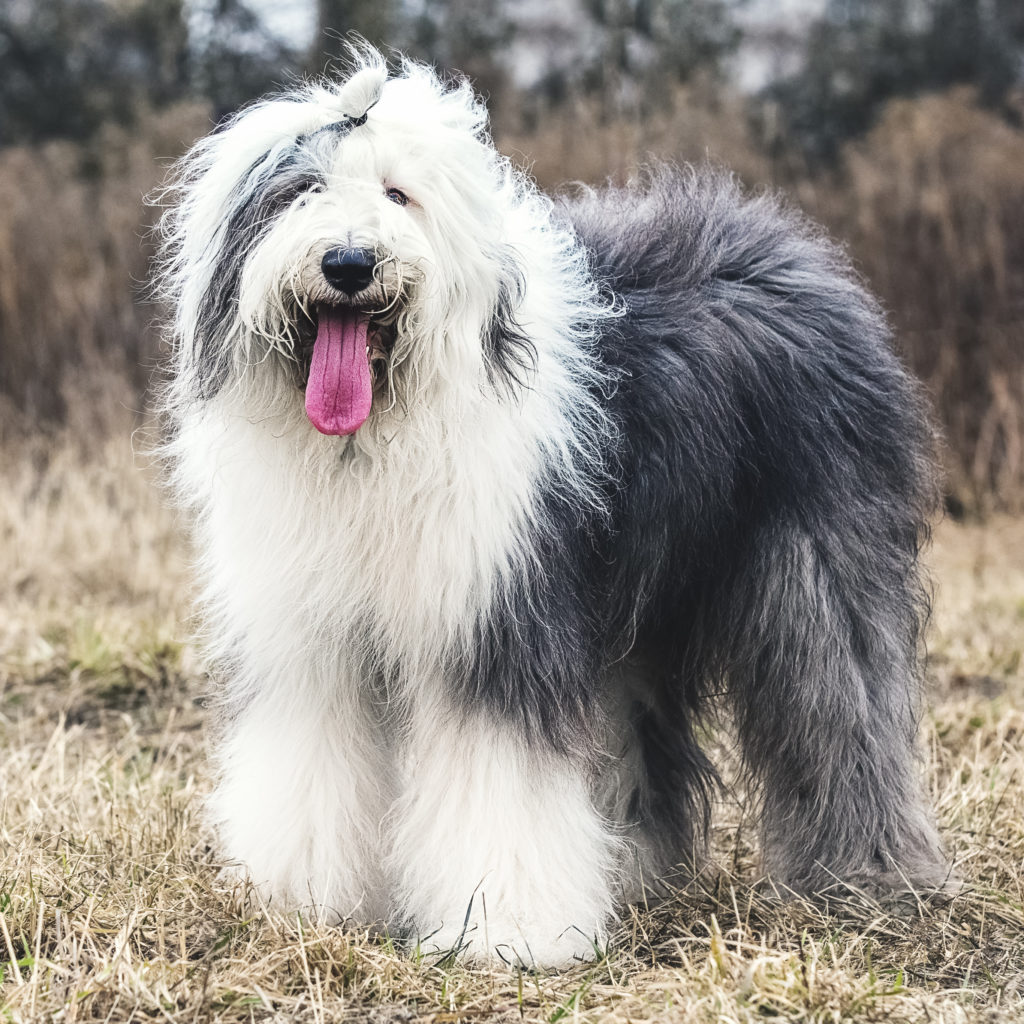 Known for their intelligence and adaptability, this breed is naturally mellow but athletic. An Old English Sheepdog will make a great companion if you enjoy being active but also like your lounge time.
Kuvasz
Known for being hardworking and good-natured, the Kuvasz was originally bred in Hungary as guardians and royal companions. They are large dogs, weighing around 100 lbs. when grown with a thick fluffy coat. While Kuvasz is known for being loyal and devoted, they can be stubborn and mischievous as well.
Bearded Collie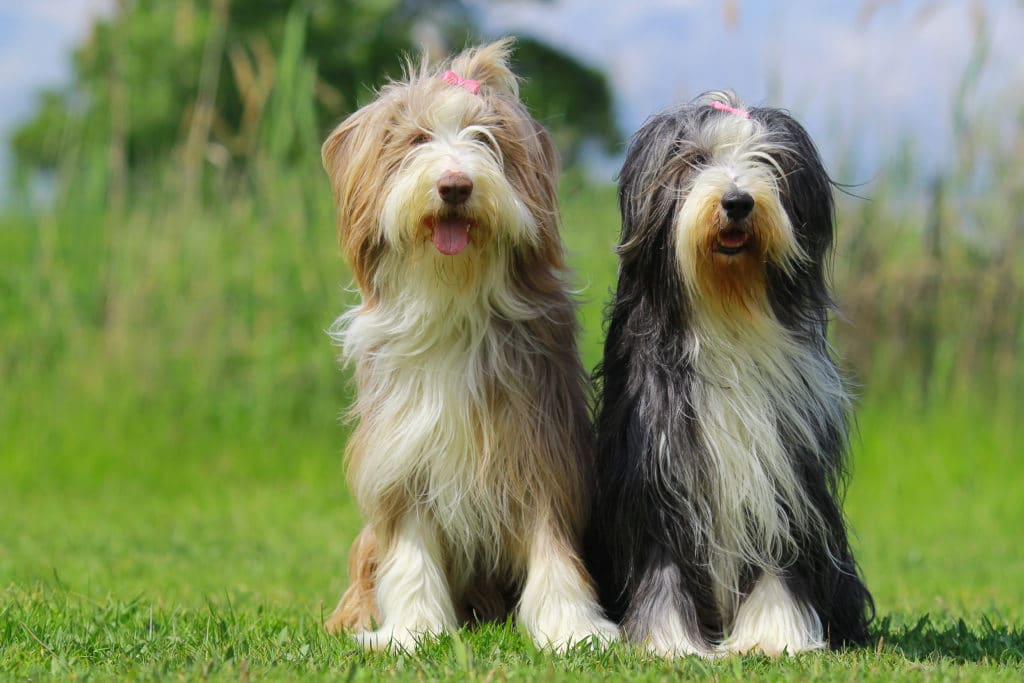 While slightly smaller than the Old English Sheepdog, the Bearded Collie is just as fluffy. They are intelligent and affectionate but also playful.
Soft Coated Wheaten Terrier
This medium-sized breed is known for being loyal and cheerful. With a fluffy coat and an optimistic disposition, Wheatens love both playtime and cuddles.
Standard Poodle
The Standard Poodle is definitely not a small dog breed, and they are known to be highly intelligent and active. In fact, the Standard Poodle is known as the world's second smartest dog breed. While not fluffy from head to toe, they do have plenty of fluff concentrated in certain areas. On the plus side, this means that poodles shed very little. They also happen to be hypoallergenic!
Australian Shepherd
Australian Shepherds are known for being energetic and smart, but also for their uniquely colored coat. The Australian Shepherds have soft fur all over and do tend to shed quite a bit, but their high energy levels make them great exercise buddies.
Giant Schnauzer
Known for their vigilance and loyalty, Giant Schnauzers make great companion dogs. Plus, they are delightfully fluffy and are calm enough for lounging and cuddles after a little bit of exercise.
Eloschaboro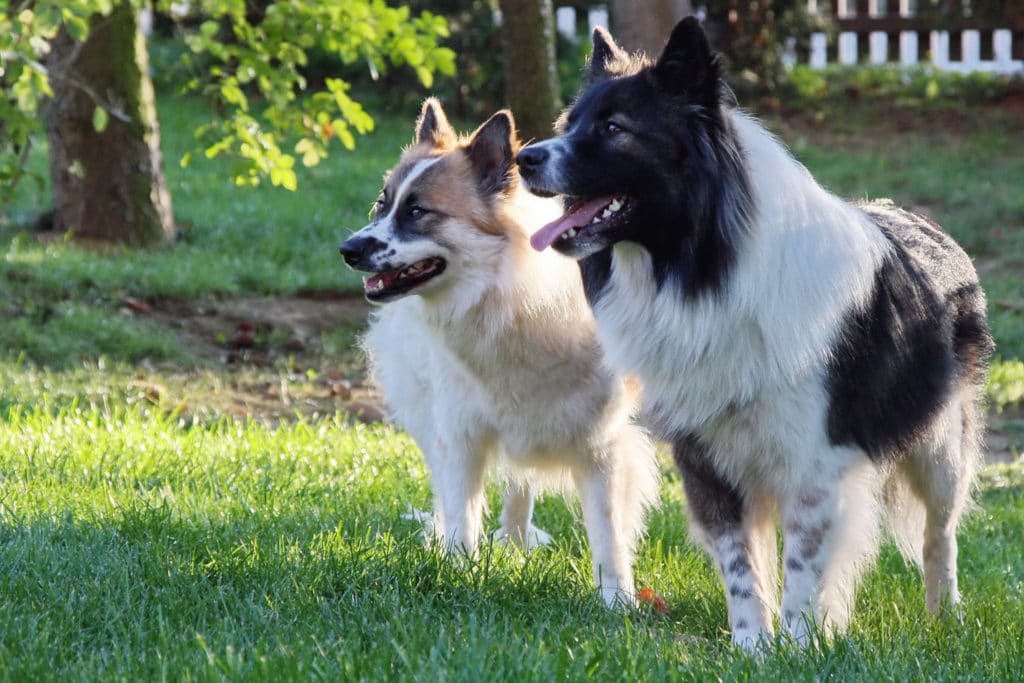 Also known as Elo Dogs, the Eloschaboro are a relatively new breed of dogs that are a mix of various large fluffy dog breeds, including the Eurasier and the Chinese Chow. Known to be loyal and happy, these dogs have a great disposition as well as a fluffy coat.
Takeaway
There are many big fluffy dog breeds from which to choose.

While certain breeds are known for personality traits, this is not a guarantee.

Getting a dog is a big commitment, and you should be ready before you get one.

Big fluffy dogs are huggable, and some are more likely to allow hugs than others.